Greater Vancouver's Leading Oil Tank Removal, Oil Tank Detection,and Soil Remediation Experts
Tri-City Tank Tech specializes in residential and commercial oil tank detection, oil tank removal, and soil remediation in Vancouver and the surrounding area. Our knowledgeable and experienced team has successfully scanned thousands of properties and removed countless oil tanks throughout the Lower Mainland and Fraser Valley since 2004.
Tri-City Tank Tech has a proven track record of excellence and is well known in the industry for our competitive prices, knowledgeable staff, high quality of workmanship and exemplary customer service.  Our goal at Tri-City Tank Tech is to educate our clients so they can make informed decisions and then respond quickly to meet their deadlines.
Oil Tank Removal | 4 Simple Steps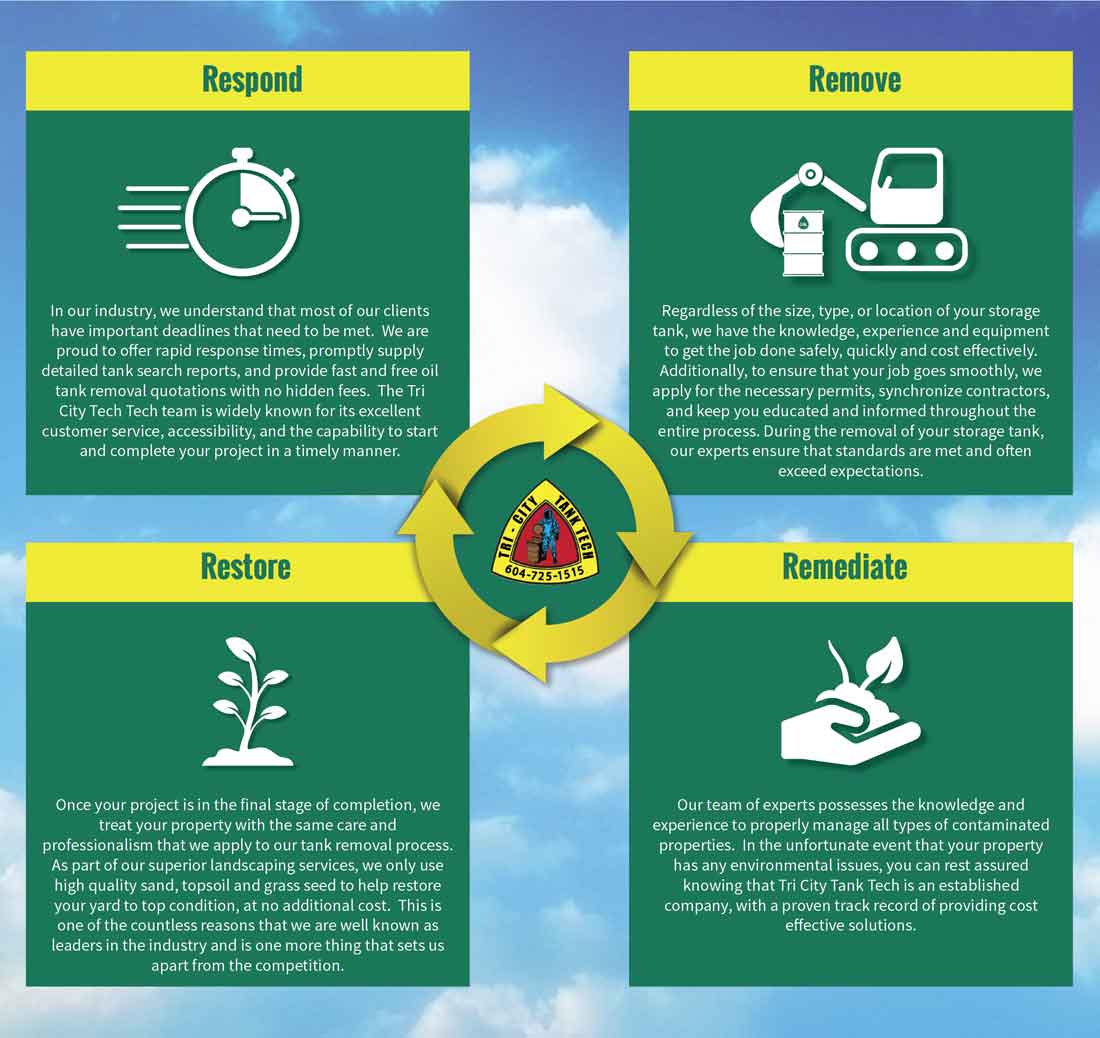 What our Clients are Saying
"Thanks for confirming for me that the tank removal qualifies for the home renovation tax credit. I wasn't sure. I was very impressed with all aspects of Tri-City Tank's work during their removal of my ancient oil tank. All of the employees that I dealt with were courteous and friendly. They were also fast, efficient, clean and they always showed up on time. I would highly recommend their services."
"I would like to take this opportunity to thank Tri-City Tank for the excellent way you handled the project on Norfolk Drive in Surrey. This project came in on budget and on time. Your field supervisor, Mathew, did an excellent job on site, coordinating the other phases including pumping, tank removal and landscaping. Please express my thanks to Mathew, for his patience in dealing with my phone calls. Myself and Remax in Guilford, would recommend your company for any future projects. Please thank Terry Kennedy for his excellent site report."